The current crisis of confidence in real estate developers, an off-shoot of the credit crunch in the money markets, will likely further strengthen the cause of large organised developers that have steadily gained market share over the past few years and emerged stronger than their peers, according to Kotak Institutional Equities Research. Any collateral damage, from the sale of large inventories will be curtailed, as only 11 per cent of the overall inventory in the top three cities belongs to the completed category, with the balance still in various stages of construction, the report says.
Kotak's analysis of inventory data of the top three cities, showed that on aggregate, only 13 per cent (75 million sq ft) of the inventory is completed, while the balance 87 per cent inventory (618 million sq ft) is still under construction. A price-led asset monetisation strategy by stressed developers, would be more effective only in the case of completed inventory, it noted. Accordingly, the low proportion of completed inventory may curtail the collateral damage of the credit crunch, on the selling price for credible real estate developers. At the current level of sales, the extant inventory will take as much as 50 months to be absorbed. However, if incremental sales are directed towards completed inventory alone, then, the current inventory can be absorbed within five to six months.
Inventory trends across the top cities
MMR: The Mumbai Metropolitan Region (MMR), with 30 million sq ft of completed inventory out of a total inventory (50 per cent concentrated in the Thane region) of 292 million sq ft, has the highest inventory of all metro cities. The MMR witnesses average monthly sales of five million sq ft.
NCR: The National Capital Region (NCR) currently has completed inventory of 23 million sq ft, out of a total outstanding inventory of 238 million sq ft. Approximately 80 per cent of the under-construction inventory, is in Noida and Gurugram. Completed inventory in the NCR can be absorbed in six months, on the basis of four million sq ft of average monthly sales, clocked over the last two years.
Bengaluru: Of all cities, Bengaluru has the least outstanding completed inventory, at 21 million sq ft, out of a total inventory of 163 million sq ft, although it also has a large number of developers holding completed inventory (not restricted to the top 50). Completed inventory is expected to last for five months, at the current rate of sales, assuming that there are no new launches.

65 per cent of the total inventory belongs to the top players in each market (restricted to the top 50), while 35 per cent of the inventory belongs to a long tail of developers. Among cities, the NCR is better placed, with the large players accounting for 85 per cent of the unsold inventory, compared to 54 per cent in Mumbai and 51 per cent in Bengaluru.
Organised players to further gain market share
Listed real estate players have been constantly gaining market share over the past few years, on the back of reforms such as demonetisation, introduction of the Real Estate (Regulation and Development) Act (RERA) that requires more capital commitment from the developers and the imposition of the Goods and Services Tax (GST).
Market share of listed real estate players, March fiscal year-ends, Q1 FY14-Q1 FY19 (%)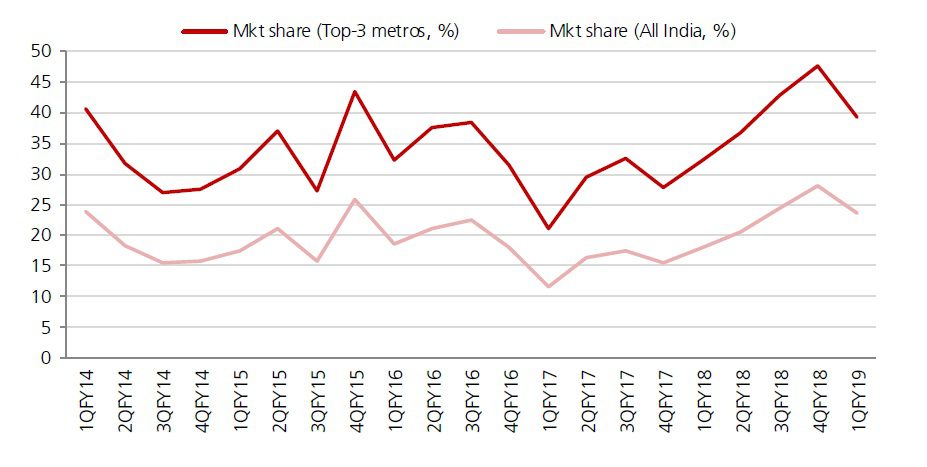 Source: PropEquity, Kotak Institutional Equities
Developers in our coverage universe, have seen their market share increase to 39.2 per cent by June 2018, from 21.1 per cent in June 2017. In Q1 FY19, our coverage universe saw their sales increase at 29 per cent year-on-year (y-o-y), compared to industry sales that were down by two per cent y-o-y. The differential tax implication for under-construction and completed projects, did play a part in the slowdown in overall sales, even as listed players have better withstood the down cycle.
Strong balance sheets – an insurance against the credit crunch
Real estate players in the listed space have relatively liquid balance sheets and a healthy sales momentum that could hold them in good stead, in a potential downturn. The managements of real estate companies, see the current times as an opportunity to make distress purchases of land and boost business development. Among our coverage, companies like Oberoi and Sunteck, have a net debt-to-equity ratio of as low as 0.3X and 0.2X.
Break-up of inventory of top 50 developers in key metro cities of India (as of August 2018)
Completed (million sq ft)
Under-construction (million sq ft)
Total (million sq ft)
Top 50
Others
Total
Top 50
Others
Total
Top 50
Others
Total
New Delhi
0.1
—
0.1
3.4
—
3.4
3.5
—
3.5
Noida
3.1
—
3.1
32.7
—
32.7
35.7
—
35.7
Gurugram
6.5
—
6.5
49.7
7.6
57.3
56.3
7.6
63.8
Greater Noida
8.7
—
8.7
61.3
20.1
81.4
70.0
20.1
90.1
Ghaziabad
3.9
—
3.9
28.1
7.9
36.0
32.1
7.9
39.9
Faridabad
0.5
—
0.5
4.1
—
4.1
4.5
—
4.5
NCR
22.8
—
22.8
179.3
35.5
214.8
202.2
35.5
237.7
Mumbai
6.9
1.9
8.8
63.6
47.6
111.2
70.5
49.5
120.1
Navi Mumbai
4.5
1.6
6.1
27.7
20.3
48.1
32.3
21.9
54.2
Thane
8.9
6.4
15.3
47.2
55.5
102.7
56.1
61.9
118.1
MMR
20.3
9.9
30.2
138.6
123.5
262.1
158.9
133.4
292.3
Bengaluru
11.8
9.8
21.6
71.8
69.4
141.2
83.6
79.2
162.8
Top 3 cities
55.0
19.7
74.7
389.7
228.4
618.1
444.7
248.1
692.8
Note: The top 50 developers are by size of outstanding inventory, although if there are less than 50 organised developers in a city, the number of top 50 is accordingly restricted.