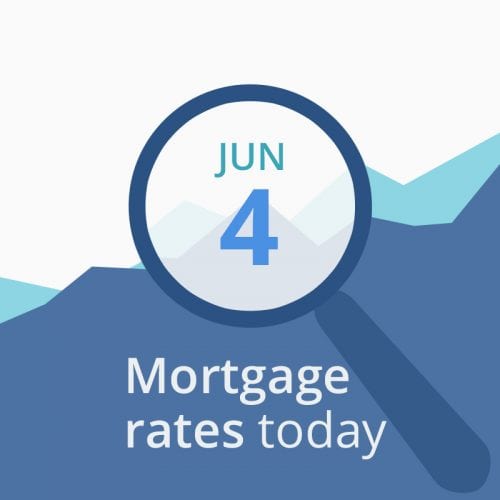 Forecast plus what's driving mortgage rates today
Average mortgage rates rose yesterday. It wasn't a big movement but it took that average back up to last Thursday's level. You have to go back to May 19 to find a higher one.
This won't have come as a surprise to regular readers. Uncertainty is currently baked into markets. And, while we still hope to see new all-time lows in coming weeks, nobody should expect a smooth ride.
Find and lock current rates. (Jun 4th, 2020)
Program
Rate
APR*
Change
Conventional 30 yr Fixed
3.25
3.25
+0.13%
Conventional 15 yr Fixed
2.875
2.875
Unchanged
Conventional 5 yr ARM
4.125
3.315
+0.02%
30 year fixed FHA
2.5
3.478
Unchanged
15 year fixed FHA
2.75
3.694
Unchanged
5 year ARM FHA
3.875
3.804
+0.05%
30 year fixed VA
2.5
2.674
Unchanged
15 year fixed VA
2.625
2.95
+0.13%
5 year ARM VA
3.625
2.847
+0.04%
Your rate might be different. Click here for a personalized rate quote. See our rate assumptions here.
Important notes on today's mortgage rates
Naturally, few buying or refinancing will actually qualify for the uberlow rates you'll see bandied around in some media and lender ads. Those are typically available only to people with stellar credit scores, big down payments and robust finances (so-called top-tier borrowers).
Still, before locking, everyone buying or refinancing stands to lose or gain when rates change.
When movements are very small, many lenders don't bother changing their rate cards. Instead, you might find you have to pay a little more or less on closing in compensation.
Overall, we think it likely that the Federal Reserve's going to drive rates even lower over time. However, there's a lot going on here. And, as we've recently seen, the Fed can only influence some of the forces that affect mortgage rates some of the time. So nothing is assured.
And expect some rises along the way. Read "How the Fed's helping mortgage rates," below, to explore the essential details.
Market data affecting (or not) today's mortgage rates
We can still see little relationship between mortgage rates today and activity in the markets they usually follow. So we're publishing the following in the hope you have insights that we're missing. Here's the state of play this morning at about 9:50 a.m. (ET). The data, compared with roughly the same time yesterday morning, were:
The yield on 10-year Treasurys rose sharply to 0.82% from 0.74%. (Bad for mortgage rates.) More than any other market, mortgage rates normally tend to follow these particular Treasury bond yields, though less so recently
Major stock indexes were mixed. (Neutral for mortgage rates.) When investors are buying shares they're often selling bonds, which pushes prices of those down and increases yields and mortgage rates. The opposite happens when indexes are lower
Oil prices inched lower to $36.76 a barrel from $36.88 (Neutral for mortgage rates* because energy prices play a large role in creating inflation and also point to future economic activity.)
Gold prices nudged up to $1,719 an ounce from $1,714. (Neutral for mortgage rates*.) In general, it's better for rates when gold rises, and worse when gold falls. Gold tends to rise when investors worry about the economy. And worried investors tend to push rates lower. But if they're not worried now …
 CNN Business Fear & Greed index inched up to 61 from 60 out of a possible 100 points. (Bad for mortgage rates.) "Greedy" investors push bond prices down (and interest rates up) as they leave the bond market and move into stocks, while "fearful" investors do the opposite. So lower readings are better than higher ones
Time was when we could use those markets to fairly confidently predict what would happen to mortgage rates on any given day. But those rates are for now divorced from those markets — and those markets are untethered from reality.
Are things changing?
Having said that, Mortgage News Daily reckons that mortgage bonds are more closely tracking other bonds than they've been doing recently. And the other bonds that they traditionally shadow most closely are 10-year Treasurys.
We're not yet ready to use the yield on those Treasurys to predict daily changes in mortgage rates. But you may decide to take your cue from them. If so, they're the first item on the market data list, above. And they're looking bad today.